4 Things You Should Know About Our Adult Size Bibs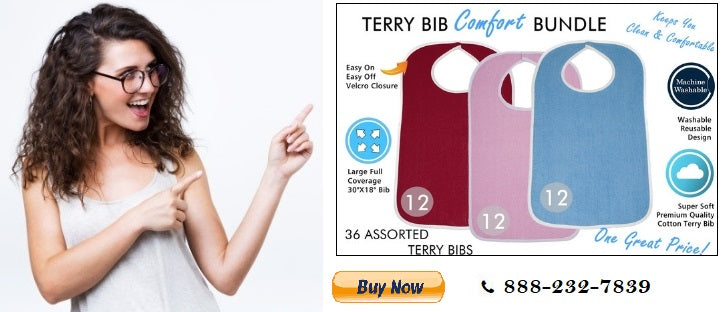 Do you remember the last time you wore a nice shirt at dinner and got spaghetti sauce on it? It can happen to anyone, and anything with tomato in it is tough to get out of clothing. We remember the last time this happened to us. That is why we offer a selection of Adult Size Bibs so that you can stay clean and comfortable all day long.
#1 Our Bibs Are Machine Washable
At Comfort Finds, we know that bibs are a necessity. We also know they are a frequently used item because it is important to eat at least three times a day. Instead of throwing away your old bib, we want you to be able to wash it. It is more convenient and more environmentally friendly to have a machine washable bib.
#2 Our Bib Is Water Resistant
Adult Size Bibs shouldn't just protect you from crumbs and small splashes. If soup is spilled or a drink drops, we want you to be protected. Our Terry Cloth Adult Size Bib will absorb spills to make sure your outfit stays dry. If you need more protection from liquid spills, our Waterproof Shirt Saver Bib should do the trick! It has a waterproof, lightweight backing for your comfort and convenience.
#3 Our Bibs Are Convenient
All of our Adult Size Bibs feature a velcro closure so that you can take it on and off easily. They are large so that they can provide full coverage in case of any spills. They are lightweight and easy to carry. We want you to be able to eat your meals wherever you are and not worry about your clothes.
#4 We Have Options
At Comfort Finds we offer three types of adult bibs. These include the Terry Cloth Adult Size Bib, the Waterproof Shirt Saver Bib, and the Waterproof Terry Bib Crumb Catcher. Each of our options will protect you from crumbs and spills. The Waterproof Terry Bib Crumb Catcher even has a snap pocket for easy cleanup. We hope that you find the adult bib that works best for you.